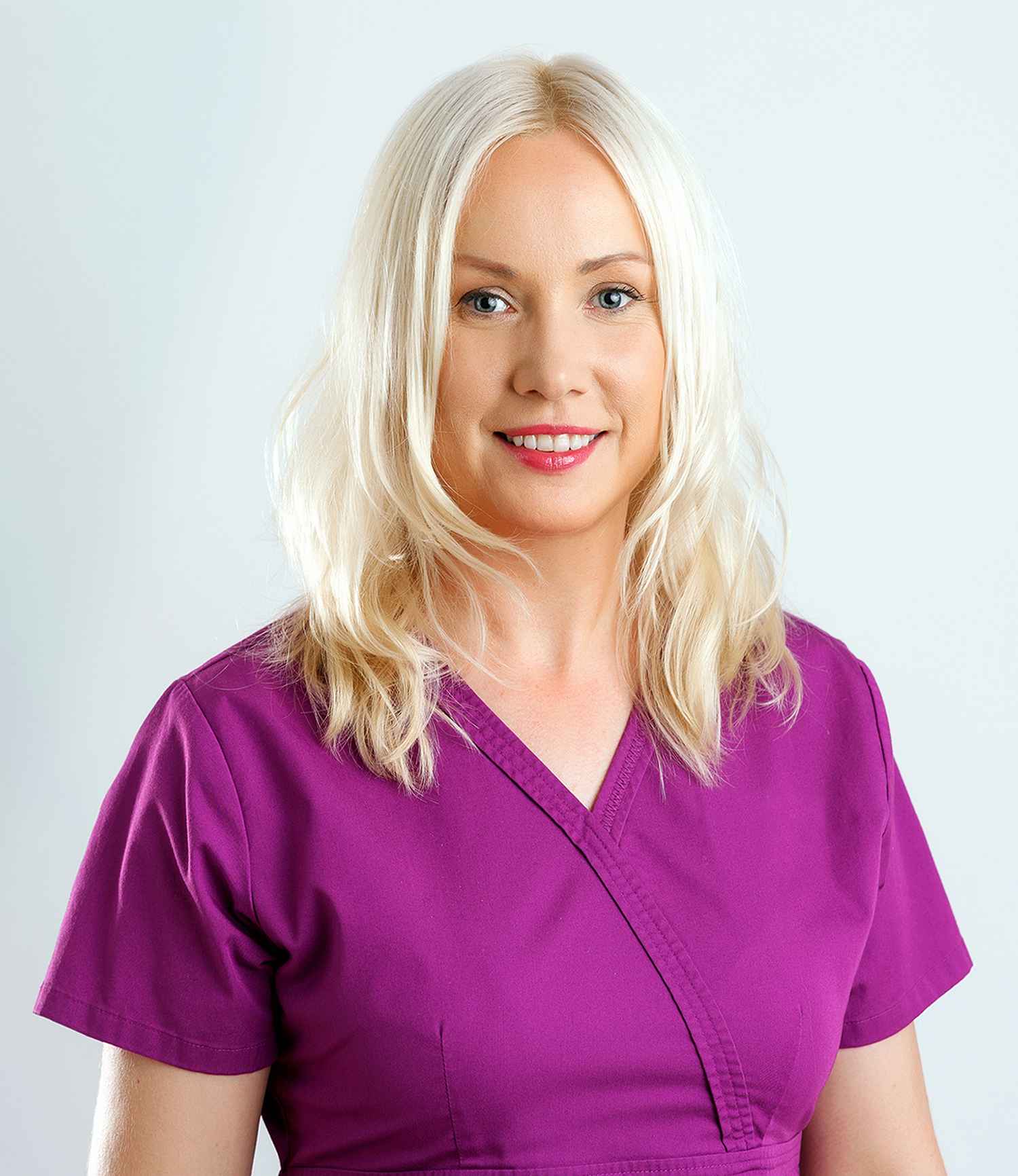 Certified hygienist
Inita Čeire was born in 1975. In 1995, she graduated the 1st Riga Medical School as a dental nurse. Afterward she studied at the Latvian School of Dental Hygiene of the Latvian Medical Academy, graduating it in 1998 as a professional hygienist. From 2001 until 2003, she has been a member of the Board of the Latvian Dental Hygienists Association, taking advantage of further postgraduate education courses. In 2003 Inita was awarded a Chicago Center for Advanced Dentistry Diploma in Non-surgical Periodontics. In 2007, she graduated from the College of Social Work and Social Pedagogy "Attistiba" (eng. Development) as a social pedagogue, and in the same year, she received a "Brite Smile" certificate in professional teeth whitening. Therefore she is qualified to perform the "BriteSmile" professional teeth whitening procedure. On a regular basis, she improves her knowledge by attending further postgraduate education courses organized by the Latvian Association of Dentists and Hygienists and other courses. A few of these are:
Seminar "Future strategies in oral health" organized by Oral Health Centre in Riga on 9thof October, 1998
Courses "Periodontics" and "Mukuoes membranes and its diseases" organized by Stomatology Institute in Riga, 1999
Seminar organized by company Thomas Freiberg "CURADEN products and Carl Martin dental plaque descaling tools" in Riga on 26thof February, 2000
Seminar "Teeth whitening and a role of dental hygienist in giving up smoking" in Riga on 21stof May, 2001
Seminar on new technology in dental hygiene 'Air Flow handy' organized by Sirowa Dental Clinic in Riga, 2001
Seminar "Colgate Total, Actibrush, Colgate Herbal" in Riga on 23rdof November, 2001
An overview of "Jordan" products organized by Oral Health Centre in Riga on 24thof November, 2001
Seminar "Promotion and education of oral health in Latvia" in Riga on 3rdof May, 2001
Seminar "International Dental Hygienists Association and its tasks. Oral health promotion for
Teeth whitening with clinical system "ZOOM!" in Riga on 29thof May, 2010
Additionally, she attends the dentistry courses organized by Sirowa. Inita has over 14 years professional experience and since 1997, she has been working in Sirowa Riga Dental Clinic.