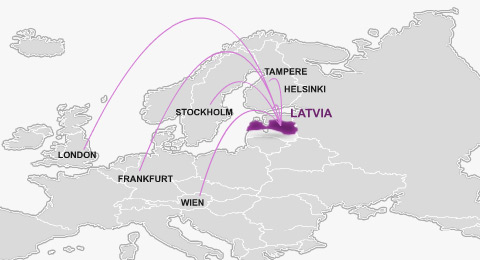 UK PARTNER FOR DENTAL TOURISM AT SIROWA RIGA
At
SIROWA Riga Dental Clinic
 our greatest passion is providing you, with the highest level of
products
 and
services
. We encourage you to explore Riga and find out exactly what it is we can offer.
Please feel free to discuss any information you may require with our UK Representative here. He is also on-hand to arrange free appointments at a place and time that is convenient for you. Our representative will be happy to answer all your questions and discuss everything that you may need.
Our dental tourism package combines a premium service, at a great value, with minimal fuss. You can even take advantage of our modern, fully equipped guest house and airport transfers that are again, completely free of charge.
Riga, Latvia's capital city, boasts plentiful activities for tourists that cater to all tastes and desires. SIROWA Riga Dental Clinic has gained a great reputation with lots of travel agencies throughout the capital as our overseas patient numbers have continued to increase.
We can provide you with a vast range of activities whether this is sampling the fine cuisines of the 'Old Town' or dancing the night away in one Europe's best cities for nightlife. Or, if you fancy a more relaxed time, we at SIROWA have connections and fantastic offers with all the most luxurious spa centres in the city which you can enjoy at a fraction of the price you would pay at home.
For those who desire a more cultural experience, Riga is stooped in history and by day you can enjoy the fascinating impacts that a mixture of ruling empires has had on the city, while in the evening you can enjoy Riga's world-class theatre or renowned opera and ballet.
In this lively and thriving city there is something for everyone. By winter, the snow can carve-out picturesque landscapes which you will not want to miss and by summer you can bask in the warmth and match a healthy tan with your glowing teeth!
Our representative can talk you through everything you need. At SIROWA, we pride ourselves on exceeding your expectations, so please, feel to contact us for a no obligation appointment:
Ross Gibson
UK Partner for the SIROWA Riga Dental Clinic

Dental Clinic SIROWA Riga
Tel: +44 (0)800 206 2204
Mob.: +44 (0)7837656208
e-mail: ross.gibson@sirowa.com
www.sirowaclinic.com/en